Mamma har inhandlat redskapen för den senaste motionsfluga - BungyPump-stavar. Så nu ska vi stavgå varje dag. Det är tyngre än det ser ut, eftersom nedre delen är fjädrande och erbjuder 4 kg motstånd. Otränade som vi är kör vi det lätta programmet med 30 min gång med varierat tryck avslutad med 10 min nedvarvningsgång. Det ger faktiskt rejält med motion, vilket kan behövas som motvikt mot småkaka till kaffet vid fikapauserna och rabarbertårta med jordgubbar och vaniljvisp efter middagen. Ja, och så gäddquenellerna med gräddsås till lunch förstås.....
Jag överväger att inhandla stavar åt mig när jag kommer hem för motionera mer behöver jag.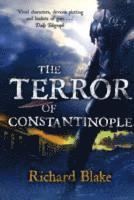 Förresten valde jag
The Terror of Constantinople
av Robert Blake som utomhusbok, eftersom paddans skärm blänker för mycket och är för ljussvag för att kunna läsas där. Min paddbok
Charmed Life
som är första delen av Chrestomanci-serien av Diana Wynn Jones har jag redan läst ut. Det var en synnerligen trevlig barnfantasybok och jag har laddat ner andra delen redan:
The Lives of Christopher Chant
. Här ser man en distinkt fördel med iPad, böcker som getts ut för länge sedan som Chrestomanci blir tillgängliga igen utan att behöva omtryck.